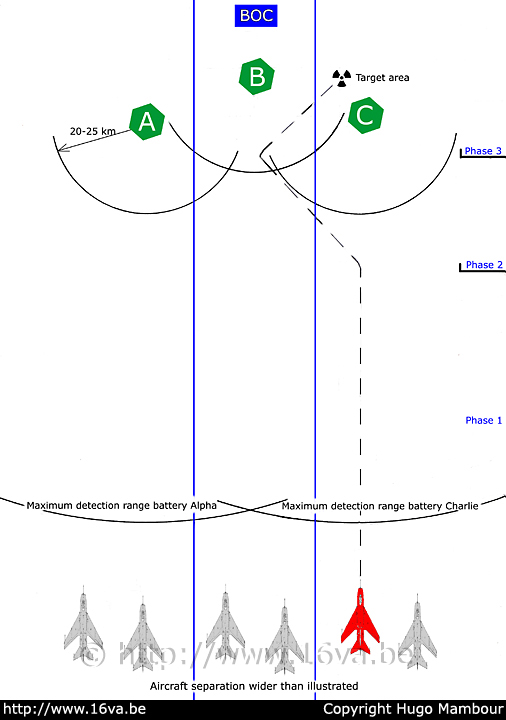 La distance d'engagement des MIM-23A Hawk ("non improved") à basse altitude était d'environ 25km. Cette distance est donnée à titre indicatif, car elle dépendait du "PIP" (Predicted Interception Point - distance estimée d'interception), qui était calculé par l'ordinateur de tir. En résumé, un missile pouvait être tiré sur une cible située à une distance plus importante, pourvu que cette dernière fut en rapprochement. Toutefois, le tir à longue distance n'était pas souhaitable, car l'avion ciblé avait plus de temps pour tenter d'éviter le missile et d'autre part, le radar illuminateur (HPIR) restait bloqué sur une cible plus longtemps.
Les I-Hawk ("Improved Hawk") sont progressivement entrés en service à partir de 1971. Leur distance d'engagement à basse altitude (60m) était d'environ 45km. Ils disposaient d'une charge explosive de 74kg (62kg d'explosifs et 12kg composés de 14.000 fragments) contre 50 pour les anciens missiles.

Les avions attaquants étaient bien plus espacés que ce qui apparaît sur le schéma ci-contre - probablement un minimum de 500 mètres entre chaque appareil d'un même groupe et plusieurs kilomètres entre chaque groupe.

Chaque site (batterie) couvrait une superficie de 12 à 15 hectares. Un bataillon à quatre batteries et son BOC occupaient une superficie d'environ 100 km de large sur 80 en profondeur. L'usage d'armes nucléaires tactiques était par conséquent bien indiqué pour ce type de cible.
The ("non improved") MIM-23A Hawk effective low level engagement range was about 25km. However, the range depended on the PIP (Predicted Interception Point), which was calculated by the firing computer. In summary, a missile could be fired at a target located at greater distances, provided that the latter was flying towards the battery. However, long range interceptions were not a good option as it left more time to the target to try to avoid interception; moreover, the illuminator radar HPIR was locked on a target for a longer time.
The I-Hawk (Improved Hawk) that were introduced progressively from 1971, had a greater engagement range at low level: 45km at 60m. Moreover, they had an explosive head of 74kg (62kg of explosives and 12kg composed of 14.000 splinters) - against 50kg for the earlier version.

Attacking aircraft would have been much more separated than illustrated here - probably 500 meters minimum between each aircraft of one group and several kilometers between each group.

Each battery covered an area of 12 to 15 hectares. A batallion of four batteries and its BOC covered an area that was 100 km wide and 80 km deep. Tactical nuclear weapons were therefore well suited for that type of target.